As The Crows Fly is the tentative title for Australian doom metal band Winter's Soil's eleventh studio album, to be released in 2011. It is following 2009's In Umbra.
Background
Shortly after the release of their tenth record In Umbra on August 13th 2009, the band announced plans for two albums in 2011 and 2012, tentatively called As The Crows Fly (2011) and For All That Is Lost (2012). After touring for most of 2010 the band announced in October that they would begin recording for As The Crows Fly before the year ended, and that the 2012 album had been renamed Beyond the Light. Kaleb Jovanovich said of the two albums that they are both lyrically and stylistically different, saying As The Crows Fly will be a darker more mourning album whereas Beyond the Light will reflect a light but also sorrowful feel. The band have said that As The Crows Fly will be released on January 13th 2011, although this is not yet entirely confirmed.
The initial track listing for the first five songs was released on December 5th 2010 to the public on the band's website, and Kaleb Jovanovich has confirmed the rest of the album's song titles will follow. He also hinted that the album is a concept album. The band released "Ashen Tears" as a separate single track on their website, and buying the song allowed the free download of another track, "As The Crows Fly". Kaleb Jovanovich has said the constant delay of the album is because the band have recorded a lot of material, stating that this album would probably be their longest. The band released the full tracklist in early June.
Confirmed songs
"Ashen Tears"
"I'am Torn"
"As The Crows Fly"
"The Great Damnation"
"A World Cloaked In Darkness"
"It Almost Seemed Forever..."
"As I Hold You In My Arms, Forlorn and Lost"
Personnel
Kaleb Jovanovich - vocals, lyrics
Nick Hale - lead guitar
Benjamin Jacobson - bass
Aaron Starkley - rhythm guitar
Hamish Glencroy - drums
Lisa Evans - violin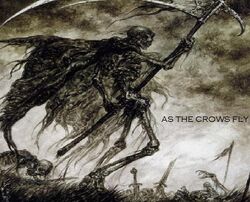 Ad blocker interference detected!
Wikia is a free-to-use site that makes money from advertising. We have a modified experience for viewers using ad blockers

Wikia is not accessible if you've made further modifications. Remove the custom ad blocker rule(s) and the page will load as expected.