backwoods

Backwoods 2: Adam's Fate is a 2012 TV movie that still being the old actors and actress of
backwoods who survive but a new cast will be in there.
Cast
Ryan Merriman as Adam Benson
Haylie Duff as Lee
Jacqueline MacInnes Wood as Blake
Chelan Simmons as Carrie
Emma Bell as Sherrie
Nicholas D'Agosto as Nick
Anna Faris as Megan
Damon Lipari as Dave
David Koencher as Jack
Texas Battle as Randy
Deaths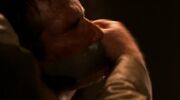 Megan is Rape and Decapitated by an armys
Dave is abusively stab
Jack is bisected by a wrackage
Sherrie was impaled with a pole
Carrie is shot in head
Blake's face was smash with a big stone
Nick is electrouced while trying to help Adam
Randy is killed when he is butchered
Survivors
Ad blocker interference detected!
Wikia is a free-to-use site that makes money from advertising. We have a modified experience for viewers using ad blockers

Wikia is not accessible if you've made further modifications. Remove the custom ad blocker rule(s) and the page will load as expected.