Bleeding the Weak is the debut album from English death metal band Van Helsing, released on September 13, 1995 through minor label Katharsium. The album was produced by Katharsium's Andrew Gosen, who would produce the band's four following albums (Gutted, Decapitated, Disembowled, and Dead, Thrice Death Toll, Necropolis of the Damned and Destroyed, It Eats Your Face, and Saturated In Sin) before dying in 2005 of a heart attack. The album is followed by 1996's Gutted, Decapitated, Disembowled, and Dead. It is the last and only album to feature Jarno Jarevski on bass, who later formed Forked Tongue Horde in 1997.
Background
Edit
In 1995 the band were signed with minor label Karthasium, and recorded their debut throughout mid-1995 with producer Andrew Gosen. According to Dan Chamberlain, the band yielded little in the first recording sessions, until Gosen asked the band to look back on Death Cult. Gosen and the band decided to use the songs off the EP on the album, but re-recorded in Gosen's much more advanced studio. Additional songs "Bitch", "Rip Out Your Tongue", and "Infernal Gospels of Undivine Prophecy" were included on 1995's Bleeding the Weak. The album arrived on September 13, 1995, with both Gosen and the band initially happy with the end result. The album was a success in the underground British metal scene, but did not see the coverage the band wanted, and it would take 1996's Gutted, Decapitated, Disembowled, and Dead to get them where they wanted to be.
Style and lyrical themes
Edit
The themes of Bleeding the Weak are hard to determine as the band have not commented or expanded on the songs or lyrics. The style strongly resembles goregrind, as apposed to death metal; being very abrasive, loud, and dissonant, although Dan Chamberlain's uses growled vocals in a low register. "Divine Decapitation" is reportedly about killing priests, and "No Salvation" is about the Apocalypse, while "Annihilator" refers to Satan. According to Alex Karas, "Bitch" is about an ex-girlfriend.
Track listing
Edit
"Divine Decapitation" - 6:00
"No Salvation" - 7:45
"Annihilator" - 4:40
"The Earth Stained with Blood" - 4:00
"Not For the Weak" - 8:00
"Bitch" - 5:00
"Rip Out Your Tongue" - 7:44
"Infernal Gospels of Undivine Prophecy" - 5:43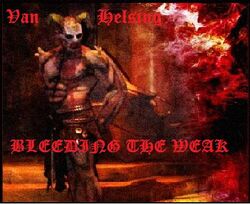 Ad blocker interference detected!
Wikia is a free-to-use site that makes money from advertising. We have a modified experience for viewers using ad blockers

Wikia is not accessible if you've made further modifications. Remove the custom ad blocker rule(s) and the page will load as expected.