Broken Wings is the third album from American metal band Death Flower, released on July 25 2004. It is preceded by 2002's Soulsucker and followed by 2006's Virus In The Blood.
Background
The first single from "Broken Wings", "Revolutionare" was available in demo on Death Flower's official website from May 30th 2004. The single was officially released on June 5 2004. Five more followed, Broken Wings on June 15, Monoliths on June 21, Rapture 2004 on June 30, Suicide and Cyanide on July 5, and Offspring of Mine on June 15. Following the album's release on June 25th 2004, Dawn In Pieces was released on August 2 2004.
Track listing
" Broken Wings" - 5:00
"Unchained, Unrelenting and Uncensored" - 5:43
"Revolutionare" - 5:00
"Last Chance" - 5:55
"Monoliths" - 6:00
"Seventh Sun" - 6:42
"Offspring of Mine" - 6:00
"Surrender" - 5:00
"Dawn In Pieces" - 4:55
"Capturing An Angel" - 5:35
"Rapture 2004" - 4:00
"Suicide and Cyanide" - 5:00
"Creeping Grasp" - 6:00
"End of Life" - 4:55
Personnel
Chris Davenport - lead vocals, screaming vocals, lead guitar, rhythm guitar
Luke Jonhston - lead guitar, rhythm guitar screaming vocals
Jeremy Johnston - bass guitar, backing vocals
Caleb Edwards - drums, percusion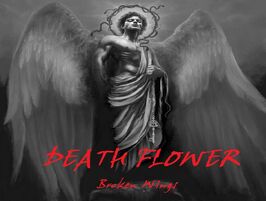 Ad blocker interference detected!
Wikia is a free-to-use site that makes money from advertising. We have a modified experience for viewers using ad blockers

Wikia is not accessible if you've made further modifications. Remove the custom ad blocker rule(s) and the page will load as expected.