{{{}}}
Biographical information
Homeworld

Cybertron

Born

unknown

Died

unknown

Physical description
Species

Cybertronian

Gender

Male

Height

same as Bumblebee

Eye color

Blue

Cybernetics

100% Robot

Chronological and political information
Era(s)

Transformers Wars

Affiliation

Autobot

Role

Warrior

Alternate mode

Car
Dodge Challenger

Cyber Key power
class="infoboxcell" style=";

" | Powers up his cannons Arms himself with side weapons in his car mode

Stealth Force Mode

Arms himself with side weapons in his car mode
"YOU WANT THe HORNS?!! YOU GOT IT!"
—Cliffjumper
Cliffjumper is a Heroic Autobot Warrior in the Autobot Army. He is known for his horns.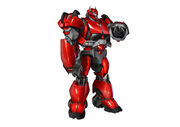 Character Information
Edit
"Let me at 'em" is Cliffjumper's usual response when the Autobots embark on a mission. His eagerness and daring have no equal among the Autobots. Optimus Prime knows this gung-ho trait is an expression of Cliffjumper's burning desire for vengeance on the Decepticons. Although he takes his work very seriously, Cliffjumper is full of good-natured bravado while he's doing it. He doesn't actively dislike Earth, but he considers its rough, uneven terrain a hindrance to his effectiveness, and too often is carelessly destructive. Often he is on the receiving end of a lecture from Optimus on caution and the protection of Earthen property. He often played War for Cybertron and watch Transformers Prime.
He killed darkmount by outsmarting him and sprayed glass gas which turned him into glass and he shattered him for good. During a heated battle Shockwave saved an injured cliffjumper by using the Magnaguards as stepping stones to cross the acid lake.
Cliffjumper was one of many Autobot victims that got petrified by Gigatron when the Autobots tried to team up against Gigatron. He was later unpetrified after Gigatrons defeat and later repaired with a special upgrade that turns him into a better car.
Cliffjumper participated in the battle of Korriban where he help defeat the Stunticons and the Predacons and finally teamed up with
Bumblebee
to kill
Tal Merrik
but was badly injured by the Sith Magic of
Darth Grievous
.
At the end of the Transformers Wars Cliffjumper and Bumblebee were hailed as heroes and were later seen racing on Cybertrons racing tracks.
In Darth Grievous's evil vision of the Future Cliffjumper tried to avenge the death of Bumblebee with glass gas but the Sith Lords blast the gas back at Cliffjumper and Bumblebees corpse and Cliffjumper died when their Bodies turned into glass and their bodies got shattered by the dark side.
Abilities
Edit
Cliffjumper is one of the fastest of the Autobots, in his automobile mode, and he makes a particularly effective target for drawing fire away from other Autobots, a job he relishes and seldom gets hurt doing. He can fire projectiles filled with what he calls "glass gas." On impact, this gas disrupts the microscopic crystalline structure of most metals, temporarily making the metal as brittle as common glass.
After his upgrades Cliffjumper had a new muscle car mode and was a more powerful brash fighter than before.
Ad blocker interference detected!
Wikia is a free-to-use site that makes money from advertising. We have a modified experience for viewers using ad blockers

Wikia is not accessible if you've made further modifications. Remove the custom ad blocker rule(s) and the page will load as expected.