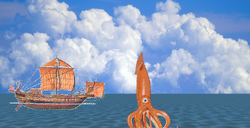 The Core was a ship of the Roman Navy.
It was used at the Battle of the Roman Legion 1 to protect the fort by sea, along with several other ships.
Later, it was used by Ryanus and Garindus on their mission to solve the disppearance of other Roman ships. The ship, when it was attacked by a Predator Squid, was destroyed by the squid. However, Ryanus and Garindus survived.
The Core was never replaced.
Appearances
Edit
Ad blocker interference detected!
Wikia is a free-to-use site that makes money from advertising. We have a modified experience for viewers using ad blockers

Wikia is not accessible if you've made further modifications. Remove the custom ad blocker rule(s) and the page will load as expected.