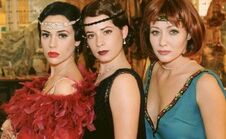 Charmed, Season 2 is the second season of Sister's and deals mainly with the relationship of Piper Haliwell and Dan, as well as the Triad's first plots against the sister's.
"The sisters are back... and they've got "the Power of Three!" This season casts a spell of excitement, adventure and fun as Phoebe, Piper, and Prue continue their journey as witches. From the intense season opener, when the trio battle an old foe who attempts to render them powerless, to the suspense-filled, and at times very humorous, season finale, these beautiful heroines will have you wishing for more. Their foes are stronger. Their powers are growing. And the supernatural has even more unique ways of disrupting their drama-filled personal lives just when they seem to get it together."
Opening Credits
The opening credits for each episode include the following, but note that Leo and Dan are not featured in every episode;
Episode List
When a demon steals the Book of Shadows, the sister's have just one chance to recapture it or they will lose their powers forever.
When Phoebe has a horrifying premenision, the sister's travel ten years into the future to change what happened. Prue finds some mysterious words on an unusual photograph which send her into another dimension within the painting.
When female fans start disappearing, Gordon returns to schedule a band to play in Piper's nightclub. The sister's suspect the band's manager may have struck a deal with a demon to gain fame and fortune in exchange for human sacrifices.
As a heat wave descends on San Francisco, an evil demon is luring men to their deaths. Prue casts a spell that transforms her into a man and goes undercover to investigate.
An evil witch tries to destroy the sister's and their only hope is to find the Chosen One who can use the witch's wand for good, rather than evil.
The sister's run foul of a group of warlocks known as The Collectors, who gain knowledge by draining human brains.
The sister's visit the summer camp where their mother drowned and discover that they was slain by a watery demon while their powerless-witch husbands stood by helplessly.
The cousins are targeted by a hit woman known as Miss Kil'a. Prue goes undercover to find out who hired her, flirting with a cold-blooded criminal to do so.
Love is put to the ultimate test when a demon sets out to destroy Cupid and all his recent love matches, putting the relationships of the sisters in danger.
The girls receive a crash course in motherhood when Phoebel finds an abandoned baby boy. While searching for the parents, the sister's learn a vengeful spirit has killed all the men in the child's family.
When Piper comes down with a life-threatening disease, Phoebe and Prue cast a spell to cure her, unknowingly spreading the deadly disease to others.
When Phoebe's friends use a book of spells to turn animals into men, Pheobe's attempt to reverse the spell goes horribly wrong.
One of Pheobe's past lives come back to haunt her as she learns that in 1750 her past self was seduced by a demon named Julian in an attempt to steal her sister's powers.
It's a tense time for the trio when Dane, a demon's henchman, kidnaps Phoebe, hoping that her powers will protect him. Despite her refusals, a growing attraction to Dane might make her think twice.
After Phoebe prevents a Darklighter from killing a potential Whitelighter, she becomes the target for his anger. Patricia, meanwhile, struggles to make a choice between Gordon and Wyatt.
An old family friend lures the sisters to her mansion when a number of corpses turn up in her town, with the intention of stealing their powers in order to gain back her youth from the demon Sargon.
The sisters encounter a demon who has the ability to make images from film come to life, as well as transport himself and others into them.
Phoebe tries to help the ghost of a former student who was killed by a demon in order to prevent the publication of her thesis, which proved the existence of evil. The sister trio must band together to vanquish the demon before he kills Pearl too.
The doctor who treated Piper when she was critically ill, accidentally acquires the powers of all three sisters. In a desperate effort to save his dying sister, the doctor uses his new powers to harvest organs from innocent victims.
Ad blocker interference detected!
Wikia is a free-to-use site that makes money from advertising. We have a modified experience for viewers using ad blockers

Wikia is not accessible if you've made further modifications. Remove the custom ad blocker rule(s) and the page will load as expected.