Deus Contemno Letalis is the debut studio album from Norwegian black metal/technical death metal band Nocturna, released on April 30, 1993. The album was a surprise success for the band, and has gone on to become a hallmark black metal record. It is followed by 1995's Diabolus Quod Suus Angelus.
The title of the album translates from Latin as "God Hates Mortals", a trend with the band that has gone on the name all their albums in Latin. The song "Beneath A Mire of Absolute Dissolution and Devourment" and "Crushed Under Hammer" have become favourites at the band's live shows. "Deus Contemno Letalis" follows in the vein of black metal, while Nocturna Sublimina Sepulturum favors the use of death growls instead of the traditional black metal vocals, thus labelling it as "blackened death metal".
Track listing
"Beneath A Mire of Absolute Dissolution and Devourment" - 9:00
"The Chalice of Divine Bloodspill" - 5:44
"Crushed Under Hammer" - 4:00
"Gods of Infernal Sacrilige" - 7:00
"Deus Contemno Letalis" - 6:02
"Whores of Hell" - 5:00
"Devour The Souless" - 7:45
"Eternally and Wholly Destoryed By Thy Hatred" - 6:00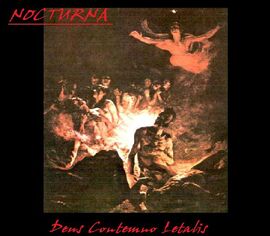 Ad blocker interference detected!
Wikia is a free-to-use site that makes money from advertising. We have a modified experience for viewers using ad blockers

Wikia is not accessible if you've made further modifications. Remove the custom ad blocker rule(s) and the page will load as expected.