Dusk Ragnarok is the tenth studio album by Swedish doom metal band Yggdrasill Burning, released on September 17th 2008. It is preceded by 2006's Nú Mun Hon Søkkvask and followed by 2010's Sepulchrum Exuro Ornus.
Track listing
"Odin's Deathless Warriors" - 7:00
"Path of Ash" - 8:45
"Fade" - 9:02
"In Her Darkness" - 5:00
"Dusk Ragnarok" - 11:00
"Thrashing Limbs and Flayed Faces" - 12:00
"Sombre Walk of Man" - 9:00
"Fallen of Valhalla" 12:00
"Divination" - 7:00
"Beloved of the Dark" - 13:30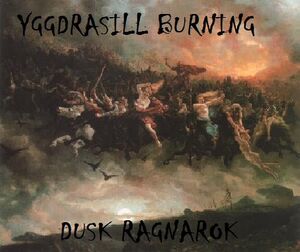 Ad blocker interference detected!
Wikia is a free-to-use site that makes money from advertising. We have a modified experience for viewers using ad blockers

Wikia is not accessible if you've made further modifications. Remove the custom ad blocker rule(s) and the page will load as expected.