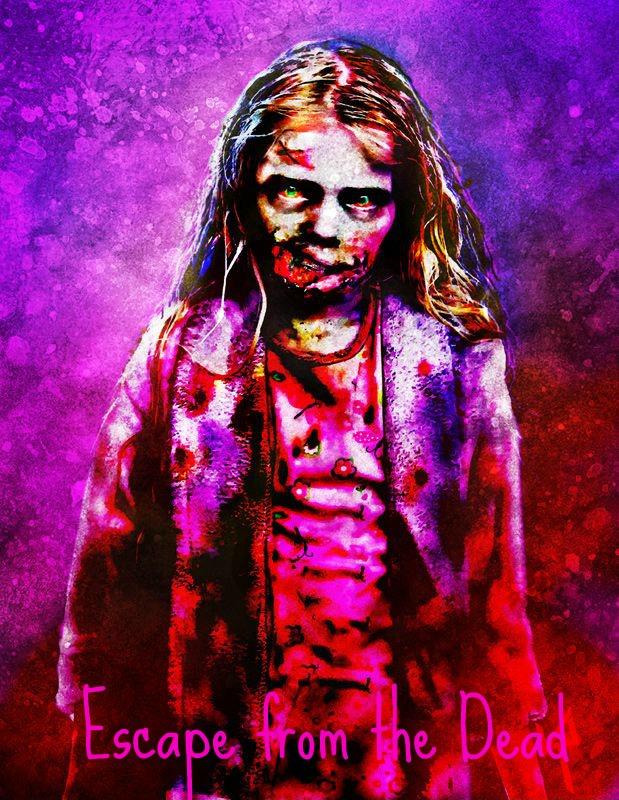 Escape from the Dead is a Horror Slasher Comedy Drama 2012 3D Film. It is star by Sean Patrick Flanery, Mary Elizabeth Winstead and Mason Cook. The Story is About The 1 Year Coma Victim Rick who wakes up and was shocked when there is a Zombies outside the Hospital. Then His Wife Lori with the Other Survivors at a basement must "Escape from the Dead" before they all die
Cast
Sean Patrick Flanery as Rick Milligan
Mary Elizabeth Winstead as Lori Milligan
Mason Cook as Carlo Milligan
Bobby Campo as George Cooper
Crystal Lowe as Marnie Cooper
Mackenzie Foy as Jess Cooper
Chelan Simmons as Olivia Kobayashi
Addy Miller as Cassidy Kobayashi
Shantal VanSanten as Joan Kobayashi
Margo Harshman as Megan Kobayashi
Thomas Dekker as Jesse Kobayashi
Ryan Merriman as Smith Kobayashi
Tiffany Hines as Tamara Jones
Addy Miller as Little Girl Zombie (Uncredited)
Logan Lerman as Joshin Kapree
Nick Zano as Tod O'Bannon
Chris Zylka as Carl Lerman
Texas Battle as Shawn Vandergeld
Steven Yeun as Glen Hooper
Logan Browning as Letisha Alomar
Naomi Snieckus as Linda Smith
Jesse Moss as Jason Moss
Dania Ramirez as Jamie Ruiz
Dustin Milligan as Justin Miller
Micheal Agarano as Mike Russell
Nicholas Braun as Nick Harper
Kerry Washington as Alessa Jones
Katie Cassidy as Brianna Carter
Emma Bell as Hannah Foster
Deaths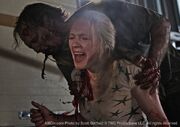 Hannah - Neck Bitten by a Zombie.
Brianna - Arm and Neck Bitten turned into Undead.
Alessa - Legs ripped of by Zombies
Nick - Neck shoot by Rick.
Mike - Head Impaled with a Pole.
Justin - Legs and Stomach Eaten Turned into undead Head shoot by Rick.
Shawn - Attacked by a group of Little Zombies (Off - Screen).
Linda - Drowned by a Swimmer Zombie.
Jamie- Head sliced off by Little Girl Zombie.
Jason - Neck Bitten and Eaten .
Carl - Eye stabbed with the glass of his glasses and eaten.
Tod - He Hung Himself in the Tree.
Letisha - Bitten by Zombies and shotts self in head to prevent her from becoming a Zombie.
Joshin - Run Over by a Car.
Megan - A Group of Zombies Grab her and Eaten. Olivia and the others try to save her.
Marnie - Arm Bitten Turned into a Undead and Shoot in head by Rick.
Rick - Sacrifice himself to save the others.
Characters
Survivors
Lori Milligan
Carlo Milligan
George Cooper
Jess Cooper
Olivia Kobayashi
Cassidy Kobayashi
Joan Kobayashi
Jesse Kobayashi
Smith Kobayashi
Glen Hooper
Tamara Jones
Deceased
Rick Milligan
Marnie Cooper
Megan Kobayashi
Joshin Kapree
Letisha Alomar
Tod O'Bannon
Carl Lerman
Jamie Ruiz
Linda Smith
Justin Miller
Alessa Jones
Mike Russell
Nick Harper
Undead
Little Girl Zombie
Hannah Foster
Brianna Carter
Thin Zombie
Shawn Vandergeld
Jason Moss
Ad blocker interference detected!
Wikia is a free-to-use site that makes money from advertising. We have a modified experience for viewers using ad blockers

Wikia is not accessible if you've made further modifications. Remove the custom ad blocker rule(s) and the page will load as expected.