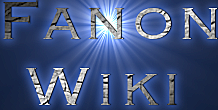 Welcome to Fanon Wiki, and thank you for joining us. This wiki is about fan created characters, timelines and anything else about existing storylines, or storylines that you've made up.
Mission Statement
Our mission is to provide users, writers and people who enjoy creating a pleasant experience the right to publish your own pictures, writings or thoughts on our wiki. We enjoy having many users, and strive to have the friendliest, best community possible. We hope all contributors will make a free account, during which process absolutely NO personal information is required. If you do choose to make a Wiki account, your account will follow through with you to other wikis of Wikia.
Ad blocker interference detected!
Wikia is a free-to-use site that makes money from advertising. We have a modified experience for viewers using ad blockers

Wikia is not accessible if you've made further modifications. Remove the custom ad blocker rule(s) and the page will load as expected.