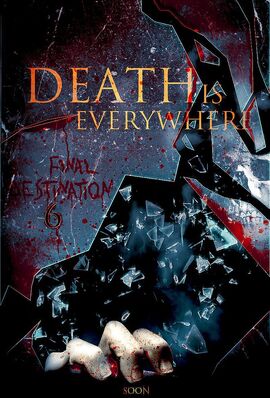 Final Destination 6
is an American horror thriller film which is going to be written and directed by Mary Harron.
Final Destination 6
follows a group of high school students who is about to board on the ship but everything change after one of them had the vision of the boat going to sink.
Plot
Ten High school students with their teacher are about to board on the ship until a guy who is an outcast had a vision that the ship will collapse killing them all, Will he and his classmates escape before it is all over?
Cast
Adam G. Sevani as Marc McDowell
Skyler Day as Shirley McClure
Hunter Garner as Bradley Stratford
Ian Harding as Noah Skeetowski
Sasha Pieterse as Kat Hatfield
Ashley Newbrough as Ana Faulkner
Matt Lanter as Brody Hendricks
Jenna Dewan Tatum as Mrs. Ruby Gillespie
Elizabeth Rice as Savannah Holman
Chad Biagini as Keith Waller
Austin Nicholas as Bryce Fuentes
Kerry Beyer as Trevor Barry
Laura Ashley Samuels as Megan McFarland
Julin as Jessica McCarty
Rhonda Griffis as Ms. McDowell
Inna Korobikina as Pregnant Passenger
Jensen Ackles as Dr. Vaughan
Drew Roy as Sean
Dylan Patton as Jake
Quotes
Ad blocker interference detected!
Wikia is a free-to-use site that makes money from advertising. We have a modified experience for viewers using ad blockers

Wikia is not accessible if you've made further modifications. Remove the custom ad blocker rule(s) and the page will load as expected.