Ad blocker interference detected!
Wikia is a free-to-use site that makes money from advertising. We have a modified experience for viewers using ad blockers

Wikia is not accessible if you've made further modifications. Remove the custom ad blocker rule(s) and the page will load as expected.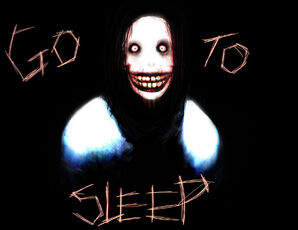 GO TO SLEEP is an american slasher film based on the urban legend " Jeff The Killer " starring Bella Sana, Kyle Gallner, Danielle Panabaker, Katie Cassidy, Josh Hutcherson, Michelle Rodriguez, Nico Tortorella, Ellen Wroe, Jean Luc Bilodeau, Bobby Campo, Katrina Bowden, Arlen Escarpeta, Megan Tandy, Mark Wahlberg, Ryan Kawten, Anna Packin and Crysthal Lowe.
Penis
Bella Sana as Melody
Kyle Gallner as Jeff The Killer
Danielle Panabaker as Hannah
Katie Cassidy as Mackenzie
Josh Hutcherson as Theo
Michelle Rodriguez as Officer Romero
Nico Tortorella as Nathan
Ellen Wroe as Maya
Jean Lec Bilodeau as Mark
Bobby Campo as Duncan
Katrina Bowden as Cassandra
Arlen Escarpeta as Joel
Megan Tandy as Lisa
Mark Wahlberg as? Liu
Ryan Kawten as Officer Wood
Anna Packin as Melissa
Cryshtal Lowe as Veronica
Veronica: Stab 7 times in her stomach by Jeff
Officer Wood: Throat Slit with a pocket knife by Jeff
Melissa: Stab in eye 3 times with a pen by Jeff
Lisa: Gutted by Jeff Duncan: Knife goes through mouth when Jeff sneak attack him.
Cassandra: Stab in chest 10 times
Nathan: Stab in chest and heart is rip out by Jeff
Joel: drowned by Jeff
Maya: eye poke out by Jeff and the stab several times.
Mark: nose broke after several kicks.
Officer Romero: Stab 26 times in her chest by Jeff.
Theo: Jaw broke after getting? kick several times.?
Mackenzie: Decapitated with axe.
Jeff: Strangled by Hannah.
Hannah: stabbed? 45 times by Jeff
Survivors
Edit
Melody and Hannah?