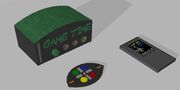 Game Time is a game station that has a motion controller and a disk similar to the ones on
Nintendo
Original-
Nintendo 64
. It doesn't take much time to load that way.
History
Elitolu invented Game Time in 2007 and it was a big hit having over one-hundred games that was low cost. They had some that where made by other companies but most were originally made by the Game Time Company.
About
Case
The case is the brain of the station, where it processes all the data from the disk to the Television and also reads the memory cards which are built in with the controllers. It also is the thing that processes the movement of the controller to the character the player is playing as.
Controller
The controller is the arms and legs of the station. It makes the player's character move and do other things. It also "clicks" what the player wants to "click".
Buttons
Up button
Down button
Right button
Left button
Select button
Green button
Blue button
Yellow button
Red button
Start button
Select Button
Disk
The disk is like a CD it holds data of the game that was programmed into it. It is a lot like N64's disk but is longer and square and it can hold up to 100kb more than the other one can.
Portable
Game Time Portable
Main Article: (Game Time Portable) Some time in June of 2007 Elitolu has announced that Game Time Portable will be coming out some time.