Gee Gee (pronounced Jee Jee) is the ditzier (even ditzier than DeeDee) heiress of Wong hotels.
Appearence
Gee Gee appears to have purple eyes, and they match her dress, tights, and shoes.
Gee Gee and Dee Dee are about the same height, 2-3 times taller as Dexter.
Gee Gee appears to have almost the same characteristics as Dee Dee
The difference between Dee Dee and Gee Gee's outfits is that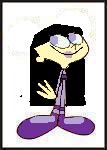 Dee Dee wears a pink tutu with white tights (pink in season 5) ,and pink shoes
&
Gee Gee wears light purple dree with purple tights, and purple shoes.
Personality
Gee Gee's personality is similar to that of Paris Hilton, and similar to that of Trixie Tang.
Appearences
New Girl in Town (debut)
Trivia
Gee Gee is voiced by Dionne Quan
Like that of London Tipton, Gee Gee also lives alone in her penthouse suite
Gee Gee is also Chinese-American
Gee may have been based off London Tipton, Lo Rigdemount, and Trixie Tang
Ad blocker interference detected!
Wikia is a free-to-use site that makes money from advertising. We have a modified experience for viewers using ad blockers

Wikia is not accessible if you've made further modifications. Remove the custom ad blocker rule(s) and the page will load as expected.