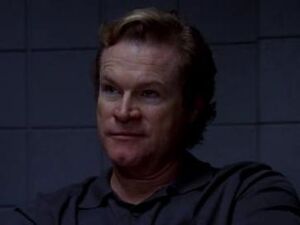 John "Hawk" Hawkins is is a supporting character in the American crime drama, Law & Order: Miami.
Biography & Personality
John "Hawk" Hawkins is a detective who formerly worked for the New York Police Department who now is a Senior Detective in the Criminal Investigation and Forensics Bureau. In 1983, he acquired a measure of fame for collaring Roger Berry, who was believed to be the Soho Strangler. When the Strangler resurfaced 18 years later, Hawk teamed up with Detective Elliot Stabler to track him down. (SVU: "Redemption").
Hawkins later transfers to the Criminal Investigation and Forensics Bureau in Miami in order to get a change of scenery and was partnered primarily with Vince Kinney.
At end of the fifth season, following Lt. Lambert's acquittal on corruption charges Hawkins accepts a job with the FBI and departs the CIFB.
Hawkins returns in the nineteenth season as an FBI Agent and is partnered primarily with Agent Bobby Williams.
Relationships
Trivia
Favored Sidearm
Walther P99
Ad blocker interference detected!
Wikia is a free-to-use site that makes money from advertising. We have a modified experience for viewers using ad blockers

Wikia is not accessible if you've made further modifications. Remove the custom ad blocker rule(s) and the page will load as expected.