Kratos' Weapon Switch is Kratos' down special move in Super Smash Bros. Smash Wars. Kratos can switch his weapons on a playable stage anytime he wants. He can switch from the Blades of Exile to the other weapons in order, the Claws of Hades, the Nemean Cestus, the Nemesis Whip, and back to the Blades of Exile again.
As Kratos takes out one of his weapons, opponents who are near him will take bits of damage.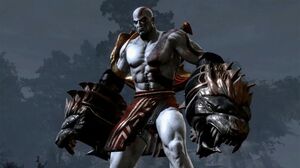 Ad blocker interference detected!
Wikia is a free-to-use site that makes money from advertising. We have a modified experience for viewers using ad blockers

Wikia is not accessible if you've made further modifications. Remove the custom ad blocker rule(s) and the page will load as expected.