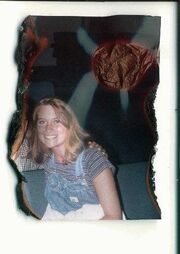 Lexie Richards
Physical Appearance:
Height: 5'9"
Eyes: Hazel
Hair: Brownish Red
HUGE FEET
Out of control freckles
Along with spindoctor, Lexie was one of the first characters of Unsolved Mystery. The first season began as a fluke that just took off. At first Lexie did not remember much about her past, but as the season unfolded her memory did too. On Lexie's Earth Prime, she served the Lord in Youth Ministry. Before she was taken captive, her life was good. Her relationship with her boyfriend was moving towards a real commitment. The day she was taken, she felt confident that he was going to ask her to be his wife. Unfortunately she was grabbed by Kromagg soldiers before getting to his home. Lexie, Shelbs, and Gemmin ("Mom") are from the same EP. When they were all captured (separately) and placed in the same cell they became friends. Coincidentally, each woman shared the same love for the Lord, so their relationship grew even faster. The year before escaping, W.A. (Lexie2) and Mina were brought to them too. The world that Mina described as her own was beyond anything the other four had heard before. W.A.'s world seemed more believable and entertaining, what with holographic devices just sitting around.
When Gemmin was released to go home, Lexie knew her earth was safe, but it wasn't until much later that she found if her family or boyfriend had survived.
One of Lexie's biggest downfalls is her tendency to wear her heart on her sleeve. On the other hand, one of her biggest attributes is that same love she feels for those she considers friends and the lengths she will go to for them.
The woman behind Lexie
After praying for discernment in her choice of career back in 1997, Stephanie spent one year of her life doing ministry. The summer of '97 was filled with an internship at her church, being a camp counselor w/ Young Life and a little bit of temp work.
Stephanie is currently working in a Christian organization, preparing taxes. This was a blessing that came to her from the Lord. Not only is her environment healthy, but she is well loved by her co-workers. She has no doubt that even if the Lord leads her somewhere else she has friends for a lifetime.
For Stephanie, Unsolved Mystery DID begin as a joke, but it became a wonderful time of her life to discover a love of writing—especially about a show that meant so much to her.
Ad blocker interference detected!
Wikia is a free-to-use site that makes money from advertising. We have a modified experience for viewers using ad blockers

Wikia is not accessible if you've made further modifications. Remove the custom ad blocker rule(s) and the page will load as expected.