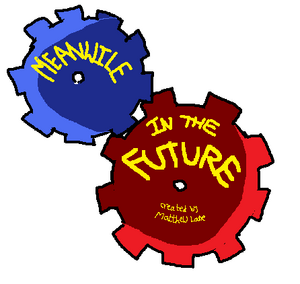 Meanwhile In The Future is an animated cartoon series created by Matthew Lane, first broadcasted on Cartoon Network on September 7th 2022. This series takes place in the far future in the year 75000 where a greedy industrial company; "Equinox", has pretty much taken over the entire world, and turned it into one huge labyrinth-like industrial zone. The show focuses on the life of a bunch a 13-year-olds, Collin Riddle, Natsumi Akimoto, Jet Crawler, and Tiff Fairweather. Collin will usually invent some kind of huge contraption to cure his severe boredom for the day, and he will drag all of his friends into the situation. Something usually goes horribly wrong (e.g, getting in legal trouble, time travel accidents, etc.) Chris Lanford, the current CEO of Equinox usually comes into the plot and pays alot of serious attention from his office when the teens are doing something that breaks several laws.
Characters
See here: http://fanon.wikia.com/wiki/List_of_Meanwhile_In_The_Future_Characters
Ad blocker interference detected!
Wikia is a free-to-use site that makes money from advertising. We have a modified experience for viewers using ad blockers

Wikia is not accessible if you've made further modifications. Remove the custom ad blocker rule(s) and the page will load as expected.