My Destiny is an upcoming album by Matthew Ashcroft. The album will be released February 18 2010, and will have 11 tracks. The genre is a fusion of Electronic and Rock. The first single from the album, My Destiny, was released on Sunday 6th December 2009. The second single was the EP Gods Are Silent. The Download link will be on Fanon Wiki in February.[when?]
Track Listing
1. Electric Shock
2. My Destiny
3. Surgery
4. Tumor Of A Hurricane
5. O.N.E.M.A.N.A.R.M.Y.
6.Gen0sis
7.Gods Are Silent
8.Demons (Fire)
9.Torn To Pieces
10.The Final Straw
11.Surgery (Matthew's Car Crash Remix)
12.Trust Is Broken
Album Artwork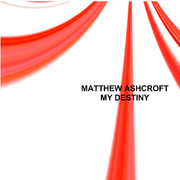 Ad blocker interference detected!
Wikia is a free-to-use site that makes money from advertising. We have a modified experience for viewers using ad blockers

Wikia is not accessible if you've made further modifications. Remove the custom ad blocker rule(s) and the page will load as expected.