Nintendo Survivor (ParaGoomba348) is a game show with 64 contestants battling it out for top spot.
Contestants
Edit
Super Mario Bros.
Edit
Mario
Luigi
Princess Peach
Donkey Kong
Bowser
Yoshi
Princess Daisy
Princess Rosalina
Geno
Mallow
Wario
Paper Mario
Edit
Rawk Hawk
Grubba
Sir Grodus
Count Bleck
Dimentio
Mimi
Admiral Bobbery
Ms. Mowz
Kirby
Meta Knight
King Dedede
Daroach
Spinni
Storo
Doc
Squeaker Red
Squeaker Blue
Squeaker Yellow
Squeaker Green
The Legend of Zelda
Edit
Link
Zelda
Ganondorf
Midna
EarthBound
Edit
Ness
Ninten
Lucas
Princess Kumatora
Jeff Andonuts
Paula
Prince Poo
Duster the Thief
Pokey Minch
Captain Falcon
Black Shadow
Samurai Goroh
Blood Falcon
Jody Summers
Samus Aran
Pikachu
Pokemon Trainer (Red)
Mewtwo
Lucario
Jigglypuff
Fire Emblem
Edit
Marth
Roy
Ike
Lyn
Star Fox
Edit
Fox McCloud
Falco Lombardi
Krystal
Wolf O' Donnell
Peppy Hare
R.O.B.
Mr. Game & Watch
Theme Song
Edit
Song: "I Wanna Be Famous"
Tabuu is sitting down on his chair and the camera zooms and we see Mario and Luigi sparring on a cliff. Bowser knocks them both on the ground and then Donkey Kong punches him in the face, while Peach helps up Mario and Daisy helps up Luigi, and Rosalina smiles.
Kirby, Meta Knight, and King Dedede are at a table eating, Kirby and King Dedede finish their plates quickly but Meta Knight puts it aside. Daroach, Storo, Spinni, and Doc are tied up while Chef Kawasaki is making them disgusting food, and they look at each other nervously. Squeaker Red, Squeaker Yellow, Squeaker Blue, and Squeaker Green are laughing at them.
Fox and Captain Falcon are having a race when Mewtwo trips Fox, and Falco shoots Mewtwo, followed by Krystal shooting him, and Wolf attacking Fox.
Samus walks by to see Marth, Roy, Ike, Samurai Goroh, and Ninten staring at her. She gets all angry and leaves.
Count Bleck and Dimentio are taking a walk in the woods when Peppy keeps annoying them by saying "Do a Barrel Roll" many times. Dimentio makes a portal and seals him, and the two continue their walk.
Mimi and Jigglypuff are giggling about Dimentio and Pikachu, and they gasp to find out that Jeff Andonuts and Blood Falcon are listening in, and Mimi and Jigglypuff beat up Jeff and Blood Falcon.
Pikachu and Red are walking together, and Pikachu steals Red's hat. Red chases him around frantically while Black Shadow points and laughs. R.O.B., Mr. Game & Watch, and Lucario are playing cards peacefully but Duster the Thief messes it up by messing up their cards.
Ness and Lucas are in a boat, high-fiving, but then they both fall off the waterfall and Geno saves them. Mallow then cheers.
Kumatora, Prince Poo, and Jody Summers are at a table watching Ms. Mowz beating Admiral Bobbery in a fight.
Link and Zelda are sitting down together, with Ganondorf punching Link and Zelda punching Ganondorf.
Grubba and Rawk Hawk are arm-wresting, and Grubba knocks Rawk Hawk down because he is that strong. Rawk Hawk taps out.
Yoshi has Wario's food in his hands, while Wario is frantically chasing him, and Wario trips. He then runs faster but doesn't catch up to Yoshi.
Mario and Peach are then sitting at the campfire together, and then Midna pops out of nowhere and scares them both, Dimentio has his arms around Mimi, Admiral Bobbery is sitting with Ms. Mowz, The Squeak Squad are all sitting together, and everyone else just has random placement.
64th Mario
Edit
2nd (Runner-up)
Edit
WINNER OF NINTENDO SURVIVOR Squeaker Red
Edit
All Characters
Edit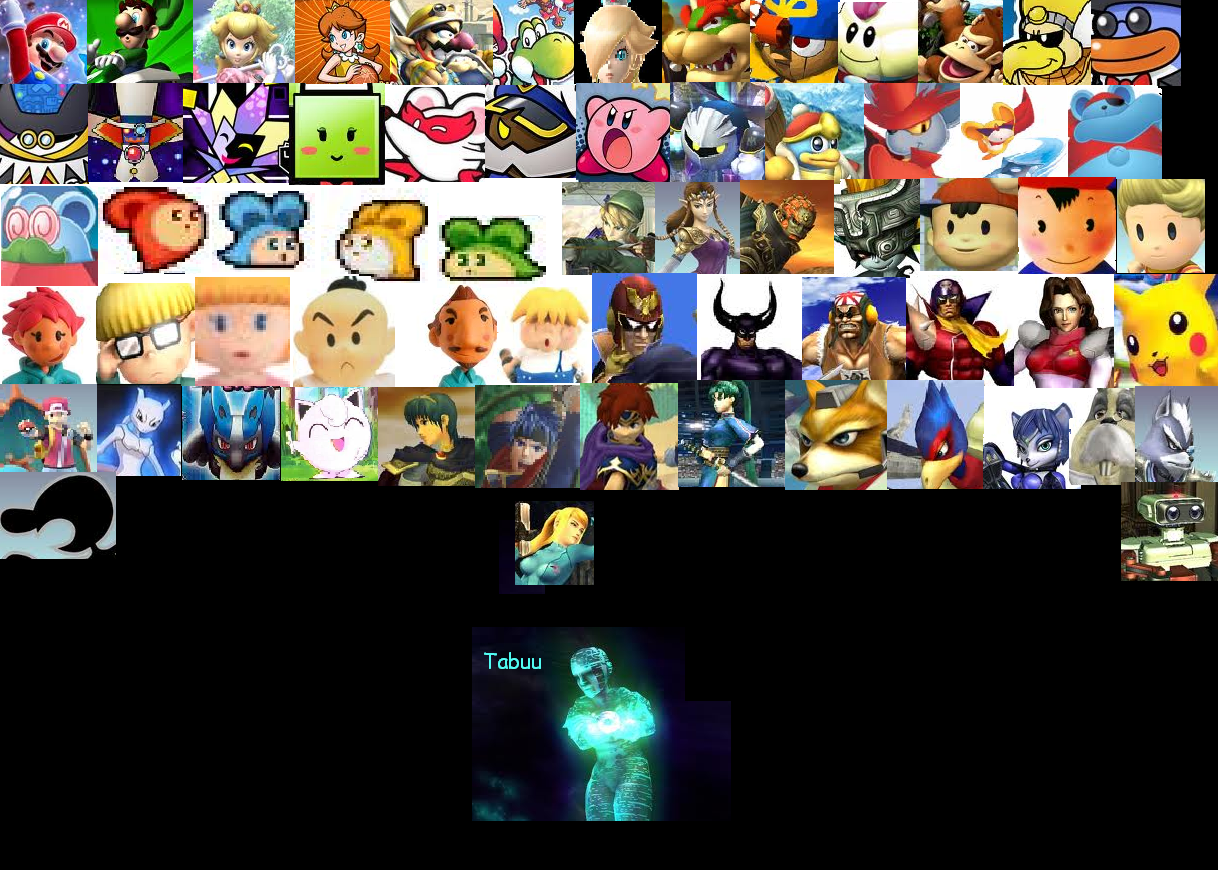 Ad blocker interference detected!
Wikia is a free-to-use site that makes money from advertising. We have a modified experience for viewers using ad blockers

Wikia is not accessible if you've made further modifications. Remove the custom ad blocker rule(s) and the page will load as expected.