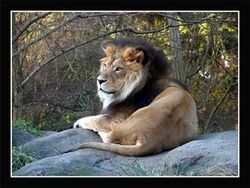 Orior
Biographical information
Physical description
Species
Gender

Male

Height

1.3 Meters

Hair color

Black?Gold

Eye color

Greeb

Cybernetics

None

Attire

Tigon

Personal information
Allies
Enemies
Weapon(s)

Fangs,Claws,Weight]]

Chronological and Political Information
Position
Era(s)

None

Affiliation
<span class="content-bg rbottom" style="background:

"></span>

Orior was a Ariston during the times of Thranderallif reign over the Human Territories.He was allied with Thranderallif and helped him in his conquest of the Human Territories of the Contigent.He was cousin to Thonigal, one of his Aristocri and had fought in a past war with MacAruthour and was close friends with him.He strived to stay allied with the humans even after Thranderallifs death and the Great Territorial Divide, which the Tigon were forced to fight in when the Thira pushed onto their borders with the help of Neroboam who would gon on to slaughter Oristat, Oriors nephew and a general in the Tigon armies. With his help, Erin once again united the Contigent and ended the constant warring. As a result of the alliance between him and Erin, Tigon were finally allowed into the Theron Felligency.