Rebirth In The Grave is the debut album from Finnish death metal band Anti-Christian, released on June 15th 1990 via Destroyen Records. It is the first and only album to feature Jeremy Kärpiki on drums, who died in a car accident while the band were on tour in Germany in 1991. It is followed by 1991's Anatomy of Evil, which is dedicated to Kärpiki.
Track listing
"Born Into The Grave" - 8:13
"Mother of Death" - 4:58
"Seasons Entombed" - 7:55
"A Millennium of Dying Days" - 9:12
"Rebirth In The Grave" - 5:44
"Resurrected Through Ceremony" - 8:56
"Deathbed" - 4:55
Personnel
Räskven Tirgensä - producer
Johään "Decapitator" Lönnrot - vocals
Kristian Visten - lead guitar, backing vocals on track 7
Peter Gärmandsä - bass
Jeremy Kärpiki - drums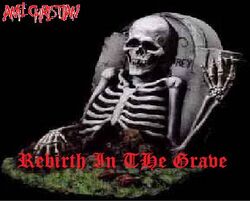 Ad blocker interference detected!
Wikia is a free-to-use site that makes money from advertising. We have a modified experience for viewers using ad blockers

Wikia is not accessible if you've made further modifications. Remove the custom ad blocker rule(s) and the page will load as expected.