Rust is the fifth album from American metal band Stagnant, released on October 18th 1997 through K.I.L.L. Records Ltd. The album competed for the top spot with Metallica' seventh album ReLoad in 1997. It is preceded by 1996's Fear The Night, and followed by 12 Laws of Chaos.
Track listing
"High Noon" - 5:00
"Gasoline" - 6:45
"Swinging By The Pendulum" - 4:34
"Rust" - 6:00
"East of Heaven" - 5:54
"Killing with A Cause" - 6:00
"Six/Six/Six" - 3:44
"Slither" - 5:00
"Mistrusted" - 7:00
"Dirt For Your Grave" - 7:54
Personnel
Frank Littlemore - vocals
Jackie Fleet - lead guitar
Andy Kyle - bass
Brett Syracuse - drums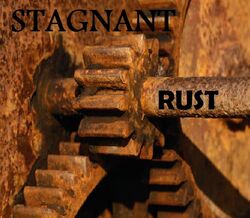 Ad blocker interference detected!
Wikia is a free-to-use site that makes money from advertising. We have a modified experience for viewers using ad blockers

Wikia is not accessible if you've made further modifications. Remove the custom ad blocker rule(s) and the page will load as expected.