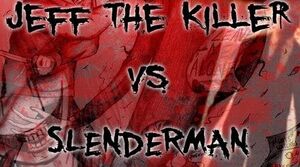 Slenderman vs Jeff The Killer is a 2013 Slasher-Horror-Comedy movie directed by Ronny Yu, the film is a crossover between both Creepypastas of Slenderman & Jeff The Killer, the film stars Derek Mears, Rory Culckin, Alexandra Daddario, Emma Bell, Mark Wahlberg, Hayden Panettiere & Chad Michael Murray.
Jeff (Rory Culckin) is walking down the forest, taking some strange notes placed in the trees, woods and more objects over there, when he suddenly spots someone or something moving towards his back and then he is attacked by Slenderman (Derek Mears), Jeff takes out his knife and starts to fight against the Slenderman, able to harm him, Jeff runs away of the forest taking the notes, leaving Slenderman injured and with the necesity of vengance.
Meanwhile in the city, Jane Arkensaw (Hayden Panettiere) is spending her night with her father the Officer & Detective John (Mark Wahlberg) and with her two friends, Mindy (Alexandra Daddario) & Matt (Chad Michael Murray), when Matt is going to Jane's room he is killed by The Slenderman, while Jane arrives she sees Matt's body covered all in blood, so she decides to call the Police, the Police thinks that the responsible for it was Jeff The Killer, Jane wants to accompany her father to the Police Station, mean her stay over there, she has a nightmare with Jeff, Mindy is able to wake her up. The next day the Police finally discover that ineed the responsible for killing Matt was Slenderman.
At The Main Hospital in the city, Jane's other friends Mark (Chris Pine) & Alexia (Emma Bell) are patients due to Nightmare problems, Doctors suspect that they may be the last ones to have contact with Jeff (directly or indirectly), then Mark dreams about Jeff killing Jane, waking up he sees the news in the T.V. about the murders happening in the city, Mark devises a plan that will allow Alexia and him to scape before Jeff arrives.During the night both scape via the ventilation ducts, then they tell Jane & Mindy about Jeff, that night they decide to sleep near the forest, but Mindy gets to drunk and decides to push herself into the forest, Jane spots her and decides to follow her, both of them arrive to a cabin, but all of this was just a trap created by Jeff to kill both of them, when Jeff is about to do it he is attacked by Slenderman, Jeff returns the pappers he took from the forest, but he is again attacked by Slenderman,he realizes that Slenderman wont stop killing, he seems to want revenge over Jeff, then Jane and the rest of her friends are able to scape.
Jane tells her father about the incident, then Jane and Alexia go to Mark's house just to find him murdered by Jeff who starts to chase them, Mindy then thinks that maybe Slenderman is just an illusion, but then she relaizes that Slenderman is real, knowing that two deranged are fighting both of them, they can do nothing about it, unless one of them kills the other one, the three friends go to the Police station for help, but Jeff is able to find them, just again to be attacked by Slenderman, Jeff electrocutes Slenderman with the power plant, Mindy is able to knock Jeff out with a metal stick, the three of them take Slenderman back to the forest, but he is attacked by Jeff in his dreams, then he wakes up. Angry because of this Jeff attacks Jane saying that she will sooner she will became like him.
Slenderman then attacks Jeff stabbing him into a tree, Slenderman seems to have the advantage due to his incredible strength and because of his resistance, but Jeff keeps ahead because of his speed and his agility with weapons, Mindy tells Alexia to help Jane to scape, but during her way, Alexia is killed by Jeff stabbing her 5 times in her head, Mindy scared attacks Jeff just to be killed by both of the monsters, Jane runing spots her father coming with other two officers, the two officers attack both Slenderman & Jeff, while Jane watches scarried how the fight goes on, then she tells her father to give her the gun, then she aims at the explosives placed in a cabin, sending both of the monsters to the docks near the forest, Slenderman is able to stabb Jeff with a branch, but Jeff is able to throw him into the fire, Jeff taking his knife once again goes walking to Jane and when he is about to kill her, she is stabbed by Slenderman again several times with his tentacles, then Jane stabbs Jeff 12 times in the head and cuts his throat, killing him, Slenderman then decapitates him and returns to the forest, finally the fight being over. Jane and her father return to their home together.
At the end of the movie, Slenderman throws Jeff's head away and then two hands take the head laguing in an evil way. 
Derek Mears - Slenderman 
Rory Culckin - Jeff The Killer
Hayden Panettiere - Jane Arkensaw
Mark Wahlberg - Officer/Detective John
Alexandra Daddario - Mindy 
Emma Bell - Alexia
Chad Michael Murray - Matt
Chris Pine - Mark 
Zack Ward - Officer #1
Tom Butler - Officer #2
Kelly Rowland - Doctor #1
Chris Marquette - Doctor #2
Katherine Isabelle - Nurse
Ian Mcshane - The Voice of The Rake 
Production
Edit
Production began in early 2011, with New Line & Paramount Pictures producing the film. They thought that a concept fight between two internet phenomenon will brought a great succces for both studios, this was of course true.
The filming began in 2012, it took place in Ontario, Canada, the scenes in the forest were filmed at 11 or 12 in the night, the cabin scences and other places where filmed at the studio.
Music of the film was composed by Grame Revell, the film score consist in 30 tracks and some tracks are  perfomed by Industrial metal band Angelspit, another album entitled "Battle of The Monsters" features heavy metal & punk artist.
Score Tracks
Edit
All music composed by Grame Revell except were noted.
Legend - 2:21
The Pappers in The Woods - 4:11
Blinded by Fear - 7:11
Physco - 2:23
Matt faces Slenderman - 5:44
Contacts with a Killer - 3:41
Welcome Nightmares Pt. 1 - 2:47
The Reality - 3:11
Slenderman first Attack - 4:11 Performed by Angelspit
Jeff's first Confrontation - 4:22 Performed by Angelspit 
Tearing You Apart - 4:08
Welcome Nightmares Pt. 2 - 3:10
Get Off! - 4:18
Scape - 3:22
Slenderman's Dream - 4:19
Wake Up! - 3:25
Jeff The Killer - 4:55
Slenderman's Second Attack - 5:44 Performed by Angelspit
Jeff's Surprise - 6:22 Performed by Angelspit
Sooner or Later - 4:07 
Knife Stained Blood - 3:22
Take Them! - 3:55 Peformed by Angelspit
I'm Tired of This! - 4:11
Confrontation Pt. 1 - 6:21
Confrontation Pt. 2 - 3:55
Saved by a Monster - 4:48
Fight in the Forest - 2:33
Explotions Everywhere - 4:55
Goodbye Jeff - 6:44
The Rake - 0:22
Battle Of The Monsters TracksEdit
Antichrist Superstar - Marilyn Manson
Blur The Technicolor - White Zombie
Believe - Disturbed
Goodbye Lament - Tony Iommi Ft. Dave Grohl
Am I Evil? - Diamond Head
Murmaider - Dethklok
One Knife Stand - Wendesday 13
The All Destroying - Goatwhore
Terminator - Sevendust
Snap Your Fingers, Snap Your Neck - Prong
Where The Dead Ships Dewll - In Flames
Cyborg Killing Machine - Doomsday
Falling Away From Me - KoRn
Chop Suey! - System Of A Down
Hatebreeders (The Misfits Cover) - Hatebreed
Swinging The Dead - DevilDriver
Bat Country - Avenged Sevenfold
Psychosocial - Slipknot
On The Offensive - From Autum To Ashes
Hunt You Down - Saliva
Monster Mash - The Misfits
Slow Thing - Mushroomhead
Genocide - Suicide Silence
Final Six - Slayer
Take Me Away - 7 Days Away
Walk With Me In Hell - Lamb Of God
Fear Is Big Business - Ministry
Killer Inside - Hydrovibe
We're Wolf - Every Time I Die
Mask - Sepultura
Troops Of Doom (Sepultura Cover) - Napalm Death
Blisters - Coal Chamber
The Twisting Further Nails Of Faith (The Cruci-Fiction Mix) - Cradle Of Filth
Critical Reception
Edit
The movie was well recieved and currently stands a 98% at Rotten Tomatoes, many critics said "This might be the horror film of the year!, You don't have to miss it!" 
Ad blocker interference detected!
Wikia is a free-to-use site that makes money from advertising. We have a modified experience for viewers using ad blockers

Wikia is not accessible if you've made further modifications. Remove the custom ad blocker rule(s) and the page will load as expected.