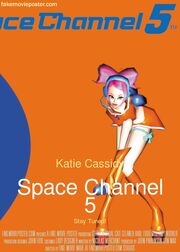 Is an upcoming film about the game space channel 5.
Plot
The Film revolves around a girl named Ulala who tries to save the world from being danced to death
Cast
Katie Cassidy-Ulala
Chris Rock-Fuse
Dianna Agron-Pudding
Harry Shum Jr.-Jaguar/Shadow
Unknown-Noize
Unknown-Evila
Unknown-Pine
Unknown-Blank
Unknown-Purge
Micheal Jackson-Space Micheal(Cameo)
Ad blocker interference detected!
Wikia is a free-to-use site that makes money from advertising. We have a modified experience for viewers using ad blockers

Wikia is not accessible if you've made further modifications. Remove the custom ad blocker rule(s) and the page will load as expected.