Starship Mario
Universe:
Mario
Debut:
Super Mario Galaxy 2 (2011)
Availability:
Unlockable
Home Stage To:
Mario, Luigi
Playable On:
Nintendo Wii, Xbox 360

Starship Mario is a playable stage in Super Smash Bros. Smash Wars. It is an unlockable stage and is only playable on the Wii, and Xbox 360. It belongs to the Mario Universe and is home stage to Mario and Luigi. It is unlocked by completeing 15 Events.
Layout
All players would fight on the ship first by the wheel. But, sometimes the stage would flip and players would fight on the back side or upside down, and might fall off. In the backround Lubba and the crew would be seen floating in space. In Galaxy Tours, if one looks closely, one can see the ship in the backround.
Music
Super Mario Galaxy Main Theme
Super Mario Galaxy 2 Main Theme
Songs in bold must be unlocked
Unlocked By: Complete Classic Mode with 15 characters.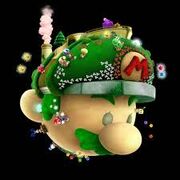 Ad blocker interference detected!
Wikia is a free-to-use site that makes money from advertising. We have a modified experience for viewers using ad blockers

Wikia is not accessible if you've made further modifications. Remove the custom ad blocker rule(s) and the page will load as expected.