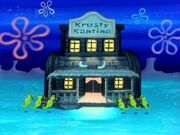 Super Smash Bros. Kart is a video game featuring new series, the Wipeout Canada and the High School Musical series.
Characters
Edit
Unlockable.
Mario Universe
Edit
Mario
Luigi
Peach
Yoshi
Daisy
Boo
Birdo
Bowser Jr.
Brighton
Twila
Rosalina & Luma
Bowser
Baby Mario
Baby Luigi
Baby Peach
Baby Daisy
DK Universe
Edit
Donkey Kong
Diddy Kong
Dixie Kong
Wario Universe
Edit
Zelda Universe
Edit
Link
Zelda
Sheik
Ganondorf
Toon Link
Young Link
Metriod Universe
Edit
Star Fox Universe
Edit
Pokemon Universe
Edit
Pikachu
Pokemon Trainer
Lucario
Jigglypuff
Mewtwo
Pichu
Kirby Universe
Edit
Kirby
King Dedede
Meta Knight
SpongeBob Universe
Edit
SpongeBob SquarePants
Patrick Star
Squidward Tentacles
Sandy Cheeks
Karen Plankton
Plankton
Mr. Krabs
Pearl Krabs
Mermaid Man
Barnacle Boy
Kelpy G.
High School Musical Universe
Edit
Troy Bolton
Gabriella Montez
Sharpay Evans
Ryan Evans
Taylor McKessie
Chad Danforth
Kelsi Nielsen
Zeke Baylor
Martha Cox
Jason Cross
Other Nintendo
Edit
Ike
Mr. Game & Watch
Pit
Palutena
Ice Climbers
Marth
R.O.B.
Captain Falcon
Olimar
Wipeout Canada Universe
Edit
Ad blocker interference detected!
Wikia is a free-to-use site that makes money from advertising. We have a modified experience for viewers using ad blockers

Wikia is not accessible if you've made further modifications. Remove the custom ad blocker rule(s) and the page will load as expected.