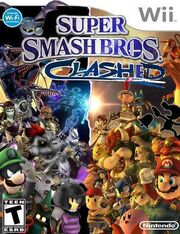 Super Smash Bros. Senior Year
is a game for teen (13 or 12 and up). It is by
User:Thea
, not
Jaster1
. This is one of the
\(All-Star Brawl)
games.
Playable Characters
All the veretans from the game Super Smash Bros. Cheerleaders v Coach Potatoes are returning. Toad did not use Birdo and Bridezilla.
Starter
Pit
Ice Climbers
Fox
Marth
R.O.B.
King Dedede
Meta Knight
Sonic
Snake
Olimar
Ike
Ness
Lucas
Baby Rosalina
Baby Peach
Baby Daisy
Baby Luigi
Baby Mario
Carly Shay
Unlockable
Luigi
Kelsi Nielsen/Olyesa Rulin
Toadsworth
Toon Link
Ganondorf
Birdo
Captain Falcon
Jacalyn Fenske
Daisy
White Mage
Jason Cross
Martha Cox
Alan
Tiffany Saenz
Abigail Santos
Dixie Kong
Sharpay Evans/Ashley Tisdale
Troy Bolton/Zac Elfon
Mr. Game and Watch
Bowser Jr.
Waluigi
Rosalina
Krystal
Gabriella Montez/Vanessa Hudgens
Taylor McKessie/Monique Coleman
Ariel Tweto
Jennifer Tapiero
Chad Danforth
Tiara Gold
Boshi
Ryan Evans/Lucas Grabeel
Dry Bones
Sherry
Boo
Sherry Reinhart
Cat Valentine
Sam Puckett
Songs
Default
Unlockable
Trivia
Episode 1: Wipeout Canada vs Smash Bros.
There will be Smash Bros. characters and contestants using Wipeout USA.
Competitions:
Finals
Week
Qualifier
Sweeper

Dreadmill

Canadian(NA)'s Wipeout Zone
Place
Contestant(Name)
Result
1
'Rush' Tanya Chisholm
2nd (1:25.3)
1st
1st
Winner (7:50.14)
2
'Miss Fulton' Ryan Evans
4th (2:23.6)
5th
2nd
2nd Place (12:44.60)
3
'All American Girl' Bree Bailey
10th (4:34.4)
4th
4th
3rd Place (14:18.25)
4
'Creme Brulee' Zeke Baylor
5th (2:57.2)
6th
3rd
Quit
5
'Secret Agent' Kim Utterson
3rd (1:48.3)
3rd
Eliminated
6
'Piano Practice' Kelsi Nielsen
1st (1:21.4)
2nd
Eliminated
7
'Zac Elfon' Gabriella Montez
6th (3:21.3)
7th
Eliminated
8
'Vanessa Hudgens' Troy Bolton
7th (3:43.2)
Eliminated
9
8th (3:45.2)
Eliminated
Gallery

Ad blocker interference detected!
Wikia is a free-to-use site that makes money from advertising. We have a modified experience for viewers using ad blockers

Wikia is not accessible if you've made further modifications. Remove the custom ad blocker rule(s) and the page will load as expected.