Templum Exuro Per Diabolus is the third studio album from Norwegian black metal band Nocturna, released on September 16th 1997. It is preceeded by 1995's Diabolus Quod Suus Angelus and followed by 2000's Sarcalogos Dico Pro Ultionis.
Track listing
"Malignant" - 7:00
"Burning Thy Halls" - 5:00
"The Devil Walks Among Mortality" - 6:33
"Purgatory Part I: Trial By Fire" - 6:00
"Purgatory Part II: Laceration" - 4:00
"Purgatory Part III: Damned To Death" - 8:00
"Templum Exuro Per Diabolus" - 9:44
"Nephar" - 0:57
"The Door Lies Sundered" - 5:00
"Gateway to Abyss" - 8:00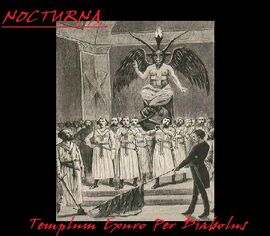 Ad blocker interference detected!
Wikia is a free-to-use site that makes money from advertising. We have a modified experience for viewers using ad blockers

Wikia is not accessible if you've made further modifications. Remove the custom ad blocker rule(s) and the page will load as expected.