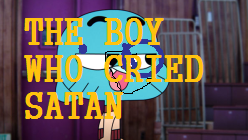 The Boy Who Cried Satan is the second episode of The Dead Show.
Synopsis
It bases on Cosmo seeing Satan destroying Cartoon City.
Plot
Cosmo wakes up early in the morning and sees Satan destroying the city, trying to set Barney on fire and peel Banana Joe. God sets things right by killing Satan and everyone's saved by God's arm 4eva and eva, and Cosmo slept until Poo-Poo(A parody of Pu-Pu) Platter Wednesday.
Rating
Critics rated it 122.45.
Rated TV-14-DLSV
Trivia
The boy who cried Satan is a parody of The boy who cried Wolf.
The screen logo now features Gumball's round part of his eye is crudely drawn.
Characters
Gumball
Cosmo
God
Satan
Wanda

Ad blocker interference detected!
Wikia is a free-to-use site that makes money from advertising. We have a modified experience for viewers using ad blockers

Wikia is not accessible if you've made further modifications. Remove the custom ad blocker rule(s) and the page will load as expected.