The Day of the Devourer is Australian doom metal band Winter's Soil's sixth studio album, released on the 11th of June 2005. It follows 2004's Sinfonía de Sangre and is followed by 2006's Amor, Muerte, Lujuria.
While playing at Mourning Sands Festival in Egypt, Kaleb Jovanovich became extremely engrossed and fascinated by the ancient Egyptian culture and had become inspired to write several songs. Many songs on the album are Egyptian themed as apposed to the band's usual mourning content, but continue to contain a feel of sorrow and the macabre.
Track listing
Edit
"Corpses In The Sand" - 3:00
"Temple of Anubis" - 6:00
"My Soul Is Eaten" - 5:55
"For Days of Peace Now Gone" - 7:57
"She Is Lost" - 8:45
"Night Shall Reign Our Hearts" - 9:00
"In Twilight He Walks" - 8:56
"Our Souls" - 7:44
"The Melancholy Hours Are Our Last" - 8:05
"Ascended of The Gods" - 9:00
"When Nightfall Comes, Death Shall Follow" - 10:00
"Merciless Is The Devourer" - 10:22
"The Twelfth Bell Tolls" - 11:00
"The Cry of the Crow" - 12:02
Personnel
Edit
Kaleb Jovanovich - vocals, lyrics
Nick Hale - lead guitar
Benjamin Jacobson - bass
Adriana Cassidy - rhythm guitar
Hamish Glencroy - drums
Lisa Evans - violin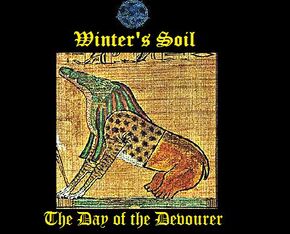 Ad blocker interference detected!
Wikia is a free-to-use site that makes money from advertising. We have a modified experience for viewers using ad blockers

Wikia is not accessible if you've made further modifications. Remove the custom ad blocker rule(s) and the page will load as expected.