Therru is an American all-girl melodic death metal band from Erie, Pennsylvania, formed in 2004. The band is signed to Vindictive Records and consist of Angela Brown (lead vocals, guitar), Claire Davies (lead guitar), Kiera Andrews (bass), and Isobelle Wilson (drums). The band takes their name from the character of the same name from Ursula LeGuin's Earthsea series, and their first three albums also take their names from the series.
Discography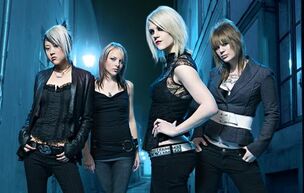 Ad blocker interference detected!
Wikia is a free-to-use site that makes money from advertising. We have a modified experience for viewers using ad blockers

Wikia is not accessible if you've made further modifications. Remove the custom ad blocker rule(s) and the page will load as expected.