Trey and Trina are Kal and Kelly's twin rivals. Trina is the older twin by 8 minutes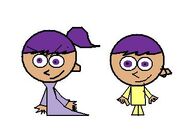 Appearence
Trina wears a body length light fuschia dresseverywhere she goes, exceptf in bed when she wears a light blue dress. Trina has purple hair (and yes, it's her natural hair color, long story) and purple eyes. At the pool, She wears a mermaid costume.
Trey wears a ight yellow sweat shier aand pants during the day, A light blue shirt with a cloud to bed, and dark blue trunks at the pool. Like his sister, Trey also has purple (natural) hair and purple eyes
Personality
Trina is the third out of three kid geniuses (the other two being Dexter and Kelly). And Trina is also sinister, but not as sinister as Kelly.
Trina is also jealous of Kelly's superpowers.
Trey also seams to be lacking in smarts except for a few times. But Trina filled in all the answers on Trey's take-home exam, and Trey got slipped into the 5th grade, along with Trina
Appearences
The Rivals of Kal and Kelly (debut)
Trivia
Trina is Kelly's rival
Trey is Kal's rival
When Kelly and Trina get in a fight, a portion of the song, Disturbia, is played
Trey and Trina are both voiced by Nika Futterman
Ad blocker interference detected!
Wikia is a free-to-use site that makes money from advertising. We have a modified experience for viewers using ad blockers

Wikia is not accessible if you've made further modifications. Remove the custom ad blocker rule(s) and the page will load as expected.