Volume 17: Crazed and Unleashed, styled on the album as "Volume 17: Crazed and Unleashed!", is American nu metal band Ammat's second album, released on July 24th 2007. It is followed by 2008's Lamb Slaughter. The album features all songs in chronoligcal order, i.e: Volume 1-2. The cover features a demonic version of "The Scream", and Ammat's mascot Smiley the Mass-Murdering Face in the corner.
Track listing
Edit
"Volume I: Kill" - 4:55
"Volume II: Slaughter, With Aforethought" - 5:55
"Volume III: Upholding the Shadow" - 6:55
"Volume IV: I Heart Violence" - 7:55
"Volume V: Guns Are Good, Killing With Them Is Not" - 8:55
"A Brief Intermission ($mell The Ca$h)" - 5:00
"Volume VI: Kill, Again" - 5:02
"Volume VII: Sentient Thoughts Are Not Allowed" - 6:02
"Volume VIII: ForNever and Again" - 5:00
"Volume IX: 24 Beers To Do" - 6:00
"Volume X: Heaven, Hell, and Everything In Between" - 4:55
"Volume XI: Welcome To The Fungle" - 6:00
"Volume XII: No No No Yes Maybe No I Don't Want To I Changed My Mind No Yes No No" - 7:00
"Volume XIII: Freedom Comes With A Price, And Its Obeying Your Ovelord" - 3:00
"Volume XIV: Lapse" - 5:00
"Volume XV: Denial, Regret, Repentance, and Back To The Old Ways Once More" - 7:00
"Volume XVI: Last Words For A Lasting Breathe" - 8:00
"Volume XVII: Crazed and Unleashed" - 9:00
"Volume XIX: Bonus, But You Pay An Extra 50 Cents!" - 1:53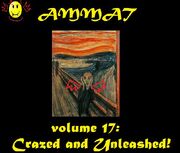 Ad blocker interference detected!
Wikia is a free-to-use site that makes money from advertising. We have a modified experience for viewers using ad blockers

Wikia is not accessible if you've made further modifications. Remove the custom ad blocker rule(s) and the page will load as expected.