Widow In Black is the first demo release from English doom metal band Black Widow, released in 1991.
Track listing
"Wave of Anguish" - 10:00
"Enter Beloveth" – 7:20
"Widow In Black" – 4:00
"Breath Into Me" – 3:34
Song info
All four of the songs were re-recorded for the band's 1992 album Evening Beloved. "Wave of Anguish" and "Enter Beloveth" appeared on Black Widow's 1999 live album Living Anguish.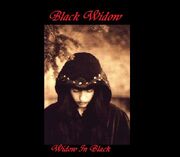 Ad blocker interference detected!
Wikia is a free-to-use site that makes money from advertising. We have a modified experience for viewers using ad blockers

Wikia is not accessible if you've made further modifications. Remove the custom ad blocker rule(s) and the page will load as expected.