The World of W is the main setting of the story take place. The world is belong to Kamen Rider Double's World. In this world, The Museums had eliminated 60% of the Humanity and 40% of the Humans are hiding out. Shotaro Hidari and Phillip together with the Narumi Detective Agency and F.C.P.D ( Futo City Police Departement ) fight the Dopants menace for good.
Narumi Detective Agency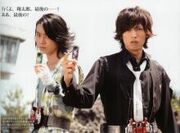 Shotaro Hidari
Shotaro Hidari Is the main protagonist of the Story. He originally was a G3 user but, he quit and he was sent to Narumi Detective Agency the place where he taught everything about Detective by his old boss before he died. He was recruited by his boss daughter and he also rescued The Mysterious Phillip once and recruit him to the Narumi Detective Agency. Together with Phillip he became Kamen Rider W to save his world from the Dopant menace.
Shotaro Hidari was voiced by Renn Kiriyama.
Phillip
Phillip Is also the main protagonist of the Story. Originally he was prisoned by the Museums he was rescued by Shotaro and Shotaro's boss. He later were recruit by Shotaro to join him to face Dopant Menace as Kamen Rider Double.
Phillip was voiced by Masaki Suda
Akiko Narumi
Akiko Narumi is Shotaro's boss daughter and also his boss. he was referred by Shotaro as "Airhead Girl" who sees her as a threat to his public image. She has come to Futo to take her father place unaware that her father is died. She sometimes a bit bossy and also sometimes serve as a Personal Assistant and always slapping Shotaro's face with her Green Sandal. When a Dopant is attacking she sometimes hiding out or screaming and run away.
Akiko Narumi was voiced by Hikaru Yamamoto
Futo City Police Departement
Ryu Terui
Genki Nakajima
Nami Kazama
Kojiro Yuuzo
Futo Irregulars
Watcherman
Santa Chan
Queen
Elizabeth
Museum
Museum is a secret organization that was responsible for creating the Gaia Memories to people. They create the Gaia Memories to studied and so they can use the Gaia Impact.
Ryubee Sonozaki
Wakana Sonozaki
Saeko Sonozaki
Kirihiko Sudo/Sonozaki
Mick
Riders
Kamen Rider W
Multi Form
Kamen Rider G3
Kamen Rider Accel
Dopants
Ad blocker interference detected!
Wikia is a free-to-use site that makes money from advertising. We have a modified experience for viewers using ad blockers

Wikia is not accessible if you've made further modifications. Remove the custom ad blocker rule(s) and the page will load as expected.